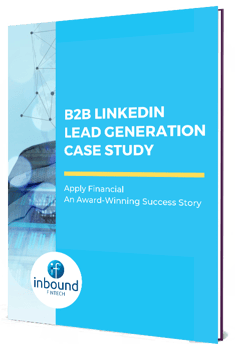 Our experienced team of marketing consultants and PPC experts transformed Apply Financial's lead pipeline, through a combination of inbound marketing strategy, LinkedIn Ad campaigns and automated lead nurture workflows.
Apply Financial is a UK-based SaaS company, offering payment validation solutions to banks and global financial institutions worldwide, saving millions for its customers by reducing failed payments. Previously relying on traditional marketing channels to generate new business, Apply needed to add more layers to its marketing stack, to reach its goals.
Inbound FinTech created a comprehensive, multi-touch lead generation campaign, based on Apply Financial's persona pain points, using LinkedIn Ads as a point of entry.
What you'll learn from this case study:
How we identified, built and targeted the client's key personas effectively
Our proven methods for creating compelling content to attract and move leads down the funnel, for Sales to convert them into customers
The range of tools we used to generate and nurture quality leads for Apply Financial, from LinkedIn's paid social features to HubSpot's automation capabilities
The results we achieved for the client through our paid and organic activity, including increased traffic, engagement, MQLs and SQLs
Apply Financial appointed Inbound FinTech as its dedicated marketing agency. Due to the campaign's effectiveness, it's still running on a set monthly budget, with plans to roll it out for other regions.
To download this lead generation case study, just fill out the short form on this page and receive the content immediately!