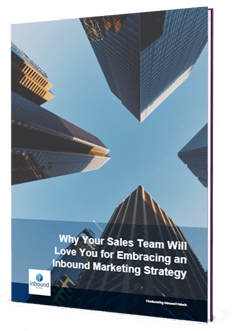 Find out how an inbound marketing strategy can empower your Sales team to turn more leads into customers.

Download our free ebook guide, Why Your Sales Team Will Love You for Embracing an Inbound Marketing Strategy, and feel the power of inbound marketing!
What this ebook guide covers:
Inbound marketing fundamentals

How inbound marketing can help your Sales team to sell more products and services

Sales and Marketing alignment tips

Why you should create thought-leadership content
How to nurture customers throughout the Buyer's Journey
Enjoy the guide!
This handy ebook guide will help you to understand the importance of Sales and Marketing alignment and key benefits of inbound marketing. Get your Sales and Marketing teams working together effectively to supercharge your pipeline.

Simply submit the form on this page to access the ebook!